FTC & Internet Marketing Law – A Business Decision is a Legal Decision
INTERNET MARKETING LAW
When you start an online business, there's no urgent need to pay for legal advice.
No one will write you a ticket for not disclosing material connections. No one will warn you that your website is not in compliance with the FTC Act. No one will tell you that you need a privacy policy. No one will tell you that you're violating the copyright laws.
If you don't follow the law on the internet, nothing will happen. Until, the shit hits the fan, that is.
Most people don't realize that a legal decision IS a business decision. If you want to keep the money you make, then you should comply with the laws. Even if you ignore the law, that's still a decision. It's just a bad decision that can cost you a lot of money down the road.
With the exception of a few areas of law, (e.g. criminal law) most disputes are about money or property. Someone owes someone money. Someone took something they weren't supposed to take and they want it back. Someone lied and it cost someone money. Someone cheated and it cost someone money. Money, money, money.
If you choose not to follow the law, or you simply ignore the law, it could cost you twice as much. First, when you're involved in a dispute, you're facing damages, fines, fees, costs and expenses, depending on the type of dispute, of course. If you lose, it will cost you a lot. If you win, you'll still have to pay for expenses related to the lawsuit.
Second, you'll have to pay for an attorney to represent you in court. When you are being sued, unlike when you start a business, there IS an urgent need to solve a problem and it will cost you dearly. Even if you win, you could spend $10,000.00, $100,000.00, or more, just on attorney fees. And, that's if you win.
The point I'm trying to make is that it makes good business sense to comply with the law from the very beginning to significantly decrease your risk of even being involved in a lawsuit. That's not always easy to do, but it's worth the effort.
THE 2011 INTERNET MARKETING LEGAL GUIDE
That's where the 2011 Internet Marketing Legal Guide comes in. It's a guide I put together to help you identify some of the common legal issues related to internet marketing.
Of course, it's not legal advice. But, if you use it as a reference guide, it can help you identify legal issues that you need to address in your own business. And, a good legal decision is a good business decision.
Here's what's inside:
THE FEDERAL TRADE COMMISSION
ENDORSEMENTS AND TESTIMONIALS
DISCLOSURE OF MATERIAL CONNECTIONS
FTC EXAMPLES / QUESTIONS AND ANSWERS
FREE TRIAL OFFERS
CAN-SPAM ACT
CHILDREN'S ONLINE PRIVACY PROTECTION ACT
COPYRIGHT LAW
DMCA POLICY
COMMUNICATIONS DECENCY ACT
PRIVACY POLICIES
CALIFORNIA ONLINE PRIVACY PROTECTION ACT
PERSONALLY IDENTIFIABLE INFORMATION
TERMS OF USE
CALIFORNIA PRIVACY / CUSTOMER RECORDS LAW
The 2011 Internet Marketing Legal Guide is a great resource and it's FREE.
Just download it below and use it to build a bigger, better, stronger business.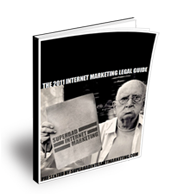 Right click and save the PDF document to your computer.
If you enjoy this guide, share this post via Twitter and/or Facebook so others can get their own copy and soon we'll have an internet where no one ever violates the law and everyone gets along. ; )