Best Web Hosting – The Truth About Web Hosting Reviews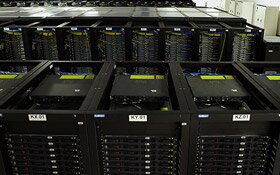 For those of you wondering what web hosting you should use to build your website, I feel your pain.
When I first got into internet marketing, I was looking for the best web hosting. But, what I found was a bunch of scammy websites filled with affiliate links.
Don't get me wrong, there's nothing wrong with promoting affiliate products, but when you disguise your site as a legitimate web hosting review site and don't disclose your affiliate links, it's just wrong – legally and ethically.
Trying to find a legitimate web hosting review site is like trying to find an honest politician. They might be out there somewhere but who the hell knows where.
So, here's the truth about website hosting.
Shared Hosting
If you're just starting out, you're probably looking for shared hosting. Shared hosting is the cheapest form of website hosting and it's cheap for a reason.
With shared hosting, hundreds of different websites are hosted on the same server. A single server can only process a limited amount of information. So, when a lot of people visit the hundreds of sites that are all hosted on the same server, it can exceed the resources of the server.
When that happens, someone's site will suffer. Your site might load really, really slow. Your site might not load at all and simply return an error message.
For example, I used to host some of my websites with WestHost. Every day around lunch time, my site would take about 20 seconds to load. Sometimes, it wouldn't load at all. Not good.
Think of all the variables involved in shared hosting that can affect the quality of your hosting.
The location of the servers.
The age of the server.
The quality of the server.
The number of domains hosted on the server.
The traffic patterns of the domains hosted on your server.
Quality of Service
But, here's what you really need to know about shared hosting. No matter which company you go with, it's a crapshoot. The quality of your service will depend on what server they put you on and what other domains are on that server.
Let me give you an example. I've had an account with JustHost for years. It was one of my first hosting accounts. I've never had a problem with any of the websites hosted on that account.
However, I wanted to develop a new website on a different IP address so I bought a brand new JustHost account. The service couldn't have been worse. From the very beginning, the site was ridiculously slow and it would crash constantly. I had to cancel the account because it was pretty much worthless.
Same company, two different accounts, two totally different experiences. That's the nature of shared hosting. It depends on the variables involved. The only way to find out what you're gonna get is to set up an account and test it out.
Now, with that said, you can limit your risk of getting bad hosting by choosing a web hosting company that has a decent reputation for quality and service.
I don't care what web hosting company you're looking at, someone had a terrible experience with them and wrote about it online. I've had personal experience with these web hosting companies.
JustHost
Fat Cow
Yahoo
HostGator
Dreamhost
WestHost
1and1
Not only did I take into consideration my own experiences, but I also looked at various forums, review sites, conversations in Twitter, personal conversations and I looked at the hosts of active sites on the web, both bad and good.
If my grandma came to me and said – Jeff, please tell me what's the best web hosting company for a cheap shared hosting account. I would suggest the following four companies (affiliate links):
HostGator
WestHost
Dreamhost
BlueHost
Based on my limited research and experience, I would say that you will have a better chance of getting good hosting with these 4 web hosting companies.
Remember, shared hosting is far from perfect. It's cheap for a reason. If you look at WestHost, their cloud hosting, which is a step up, starts at $50 per month. That's a 1,250% increase in price. Do you think there's a reason for that?
Dedicated servers, which are high-end solutions for sites that require a lot of server resources, start at $95 (which is low for dedicated servers). That's a 2,250% increase in price. There's a reason people pay that much money for hosting.
If you don't have much traffic and you don't use much bandwidth, you probably don't need anything more than shared hosting.
Check out the websites and make sure that whatever company you end up with has the features you need. Get your site set up and test it at different times of day. Specifically, morning and lunch times are typically busy.
If you have problems from the very beginning, I highly doubt they'll get better. If customer service doesn't identify an issue and fix it during your first attempt, cancel the account and try another company.
When you find one that works, stick with it. Good luck!
Best Web Hosting
(affiliate links)